Many people have a hard time grasping what the meaning behind an optical illusion really is. I am no exception to the rule although I try my best to decipher the true meaning behind these works of art! Depending on the illusion, I can sit there for what seems like forever and never really get to the bottom of it. This Tetrahedron wasn't any different for me. After looking at it for a little while, I still couldn't quite grasp what the whole point of it was. It only appeared to be a spinning triangle that boasted a variety of colors in the image itself.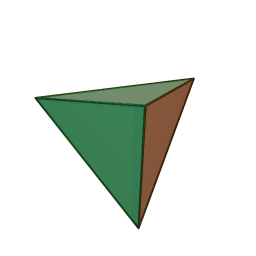 You tell me. What did you get out of this animated gif? Am I totally missing something in this simplistic piece of art? Did you notice how the color changes as the Tetrahedron spins around? The way the light reflects through the image is pretty cool and not something I would have ever thought of on my own. In reality, this thing is so simple that it shouldn't be as intriguing as it is. Yet, I find myself sitting here and staring at the thing as it rotates round and round changing color along the way.
From green to brown to green to brown, the color changing technology in this Tetrahedron is something that you have to watch and observe to gain a full understanding of the illusion. Even though it looks like a triangle to me, that doesn't mean you are going to think the same thing. Everyone has their own opinion on what optical illusions are cool and which ones they find boring or uninteresting.  Take the time to explore this rotating shape and see what you get out of it. Maybe you will see something that I didn't, but for me, it really was something simple and amazing all at the same time.