Video: Anamorphic Candle Box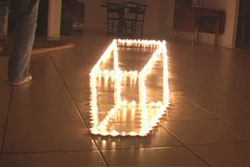 When Dan and Brieuc both submitted this flick, I thought it's a nice video, but doesn't bring much new to our world of optical illusions. Then the next day came, and I started receiving the exact same submission (from more sources), over and over again. It really appears people who saw this would like to share their experience. So I decided in favor of presenting Brusspup's Anamoprhic Candles video. There you have it. It's not that bad when I think of it, it's just not something I find that extraordinary.
BTW, as Brieuc properly pointed, this is kinda similar to chalk drawing illusions, except made with candles. For more anamorphic stuff, be sure to check the corresponding tags and categories – #Anamorphic and Anamorphosis category!