Good morning! I don't know about you, but I'm in the mood for a simple illusion today. Well, as simple as an illusion can be. This black and white pyramid optical illusion looks like it might do today…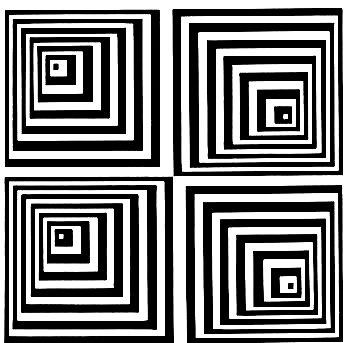 It's definitely a little wonky on the eyes, and it even seems like it's moving a little to me when I look at it. However, it's a pyramid illusion, so we're looking for some pyramids in this image. The stacked squares each appear to be 3D to me. Two of the pyramid optical illusion images seem to pop off the page and two of them seem to sink into it. Is it the same for you? Which ones seem to pop up and off of the page like pyramids for you?
If you liked this black and white pyramid optical illusion, make sure you head over and check out this awesome tunnel illusion!