Ahh, you just have to love Saturdays! I'm putting up this new optical illusion for all of you to enjoy today and then I am going to go out in the warm sun and enjoy the weekend to the fullest. I don't know about the rest of you, but I need my proper dose of vitamin D today. After that, I think I'm going to have some friends over tonight and maybe have a cook out. I'm taking full advantage of this warm weather. What are your plans for today?
Today, I have an optical illusion that some of you may find scary, but I know some of you won't. I certainly thought this one was a bit scary. Honestly, I don't even know if I could walk into a room like the one in the picture below. I don't think anyone that has a fear of heights could, either. Are you ready to see what I'm talking about? If so, scroll down.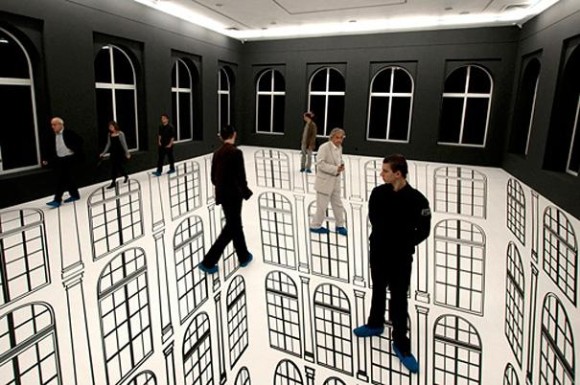 Now, you can see exactly what I'm talking about. It looks like these people are walking on air. I'd be afraid I'd step into this room and plummet to the ground. This is an absolutely amazing optical illusion, though.
Want to view another optical illusion that's going to blow your mind? Have a look at this optical illusion.