It's been a long, long week, and with one more day to go before the weekend, my mind is almost shot. I'm looking forward to a couple of days to chill out and relax. Well, that's not entirely true. I probably won't be chilling or relaxing much this weekend, because I get to pack up the rest of my house. I'm moving—I sign the papers on the new house on Tuesday!
After peeking back on the recent posts on here, I realized that I haven't put up a moving illusion lately. So, I figured what better way to round out the week than with a freaky movie illusion? Besides, a spinning illusion matches what's going on in my head at this point…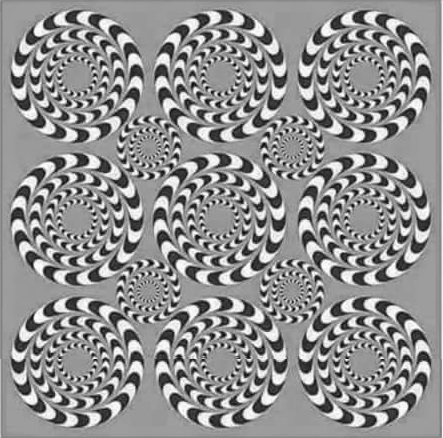 This spinning illusion is definitely a little hard on the eyes. But, that's what makes it such a neat illusion. You know that this moving illusion is't really moving, though when you look at it, the circles seem to be rotating in opposite directions. Of course, this isn't a moving image at all, just a clever moving illusion.
If you liked this spinning illusion, be sure to check out this similar, yet more colorful, rotating circles illusion!