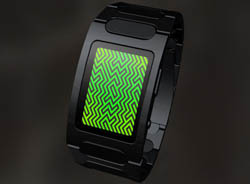 There is a new concept in town – an optical illusion watch concept, and it comes directly from Tokyoflash design studios. As they claim: this design is perfect for those who are into challenges. Time it displays is a hidden optical illusion stereogram of some sort.
Getting used to it requires training your eyes first. Only then you will be able to see the hidden numbers embedded in some kind of a greenish maze. On the other hand, if you have trouble seeing the time on the standard display, just touch the main button, and it outlines the individual digits.
In my knowledge this is only a concept, and hasn't entered the manufacturing process yet. Perhaps it could be an interesting toy, at least before you get bored by it. So what do you think? Would you buy this watch if it was available for purchase? Me? I'm not really sure I would… always had trouble seeing stereograms.