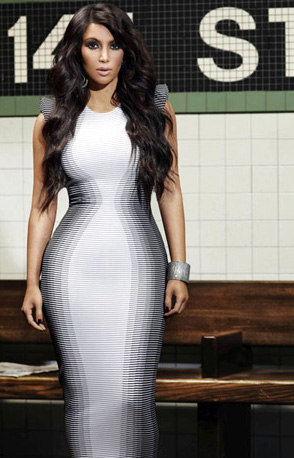 We all know that women prefer clothes which makes them look thin, emphasize their curves and enhance their figure. Spanx pantyhose, Wonderbras… You name it! But come on, no dress is really gonna take ten inches off your waist, or make you look twenty pounds lighter than you really are… Would it? Well, no ORDINARY dress would be able to do that!
But when designers discover fabulous world of optical illusions, and then start playing with such concepts, you'd be amazed what they could do to the female figure… only sky is the limit!
Take the dress on the right for example – simply by adding a well-known optical illusion pattern to the waist, the designer Alexander McQueen suddenly makes any woman wearing his dress appear much thinner in waist than she really is. Not to mention how he successfully reversed the effect in the breasts region, accomplishing curvaceous, hourglass appearance!
Really?! Who Else Does This?
The next dress by Stella McCartney is another extreme example of what optical illusions can do to a woman's body… Sure, it's an easy task to emphasize Kim Kardashian's curves, but what if you're not as curvaceous?
Using a similar concept that slimmed down Kim in the first image, McCartney's dress takes the illusion even further – By using a slightly off-white color fabric on the bust, the "shadow effect" makes woman's breasts appear much larger, immediately putting them in the spotlight (something I'm sure most gentlemen wouldn't be eager to complain about). But that's not the only enhancement here!
Kate Winslet premiered Stella McCartney's dress at the Venice Film Festival, and it was so noticeably figure-altering that it was quickly dubbed "The Optical Illusion Dress" by the press. You can immediately recognize the black-fabric-on-the-sides trick, one that made Kate look like a corset model from the 18th century. An hourglass figure so slim, that when compared to her mortal anatomy, it's actually shocking…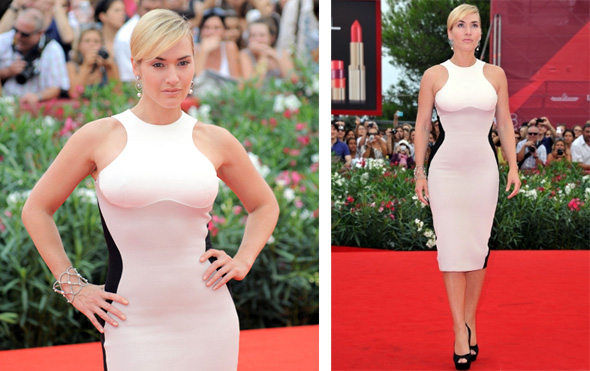 So remember, optical illusions aren't just theoretical creations used by artists. No, they are also quite practical when applied to real world settings by fashion designers who want to please their clientele by giving them an entirely new figure. Here are few more celebs wearing Stella McCartney's dresses. Has it worked for all of them? You be the judge!