Vintage Pin Up Girls Optical Illusion
Good morning everyone! Today is terrific Tuesday, which means that you are guaranteed to have a great day! Back in the day, there were girls that posed in all kinds of sexy clothing such as bathing suits, and the girls were so beautiful that even soldiers took their pictures overseas with them and painted them on the side of planes. However, not every vintage pin up girl was sexy, and in fact, these twins took a scary yet unforgettable picture that is also an optical illusion. These twin lovelies look headless, and the picture is absolutely awesome!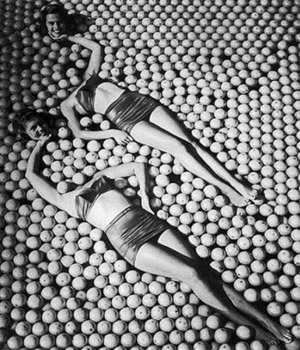 One of the great things about optical illusions is how things can be hidden in plain sight, just like these optical illusions where you have to find the hidden tools.  After all, every professional has the tools of their trade, and in this cool optical illusion, you have to use your skills, and sharp eyes, in order to find the hidden tools! Good luck, and if you all manage to find the tools, be sure to leave us a comment below, and remember, your comments are much appreciated and we love to hear from each and every single one of you.  Have a great day!