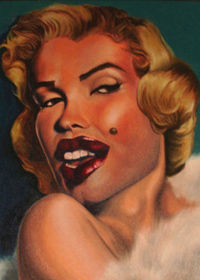 As Jesus Diaz of Gizmodo explains, this optical illusion is one of the weirdest, freakiest brain phenomenon you'll ever experience. What I'm about to show you is called the flashed face distortion effect, and if you just follow the instructions at the beginning of this video you'll be able to experience it yourselves.
Although Jason M Tangen, Sean C Murphy and Matthew B Thompson (the authors of this scientific study) —have yet to fully explain the illusion they discovered, it seems as if it happens because we're only given a short period of time to examine each picture. For some reason our brain tries to differentiate the two faces that we're seeing, and to do so (in such short time interval) —it ends up exaggerating the features of each face.
This reminds me of something that can often be seen in real life: have you ever noticed how girls prefer to hang out with other girls they find less attractive (than what they think of themselves)? I guess this study may have touched the tip of an iceberg, and eventually prove how woman's intuition understands the way our male brain operates. By aggressively differentiating and making choices – in the end we often end up dating girls we wouldn't normally choose (under different circumstances). Crazy, right? I'd just like to know whether this works the other way round? Do you think us guys feel more secure when we approach girls, while having a less prominent sidekick by our side?
We describe a novel face distortion effect resulting from the fast-paced presentation of eye-aligned faces. When cycling through the faces on a computer screen, each face seems to become a caricature of itself and some faces appear highly deformed, even grotesque. The degree of distortion is greatest for faces that deviate from the others in the set on a particular dimension (eg if a person has a large forehead, it looks particularly large). This new method of image presentation, based on alignment and speed, could provide a useful tool for investigating contrastive distortion effects and face adaptation — Jason M Tangen