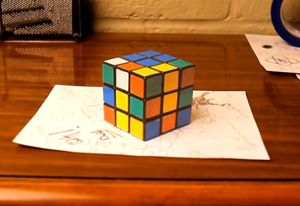 When I woke up this morning and opened my mailbox I saw a dozen of submissions containing the very same link pointing to brusspup's YouTube channel – I was immediately aware something important was happening. Boy was I right!
After seeing this video for the first time I couldn't believe my eyes. I played it again and again, until I was certain there was no black sorcery involved – just typical old school illusion effect,  only this time brought to a whole new level.
Just in time for year's end, I think we got ourselves a very strong candidate for illusion of the year award! Which of the objects used in this video you think was a deal-maker? Was it a Shoe, Rubik's cube or the tape roll? After you've seen the video, be sure to check the gallery below. Those with a keen eye will notice how first scene was somewhat staged, and will also notice how seamlessly "the switch" was made. However, in no way does this effect the awesomeness of the video!
I've included the images in this video for you to download (here) and try yourself. Print them on 8.5 X 14. Cut the paper any way you'd like to add more of an effect. – Brusspup