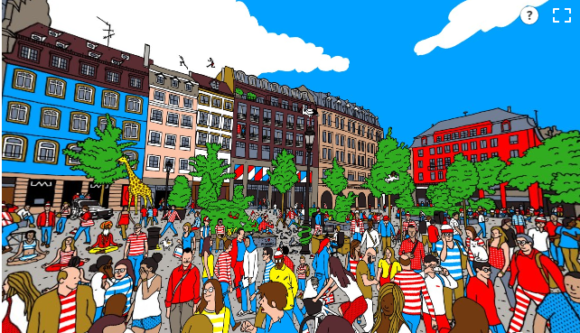 I guess this isn't really a throwback, but it really brings the past back to the future! If you don't know what Waldo is, we're going to give a brief history of "Where's Waldo" below. For those who are interested in pure fun and no history, skip all of the text below and head right down to the interactive picture. Your goal? Find Waldo =).
The History of Waldo
The iconic, elusive man in the red-and-white striped shirt was first hidden away in 1987 by British illustrator Martin Handford.
Martin Handford is the British Illustrator who created the iconic red-and-white striped shirt man in 1987. Handford started young. He was drawing since he was a boy and found it exciting and fun to draw crowded scenes. He felt it brought life to his illustrations on paper.
Handford literally made a living drawing crowded scenes- he did so for several magazine and advertising companies- talk about being successful no matter the niche and or specialty! And somewhere down the line, one of the art directors suggested that he place a character inside the crowded scenes- to create a focal point to encourage viewers to engage with the illustration more. Viola- the idea of Waldo was created.
After three years of art school, Handford started working as a freelance illustrator, drawing crowd scenes for a variety of magazines and advertising companies. He got the idea for a whole book made up of crowd scenes and approached a publishing company about it in 1986. The art director suggested that he make a character to act as a focal point in his pictures of crowds to encourage people to look at the picture more closely.
I gave him that look because when I originally thought of the character who was lost in all those scenes, I just imagined the reason he was lost was because he was slightly idiotic and didn't know where he was going."

-Martin Handford
The first book was published in 1987, and wasn't actually called "Where's Waldo" instead it was named "Where's Wally." Interestingly, several countries have their own names for "Wally". The US / Canada call Wally "Waldo", "Charlie" in France, "Walter" in Germany.
But that's enough history.  Now it's your turn to find "Waldo"