The Halloween Tree Illusion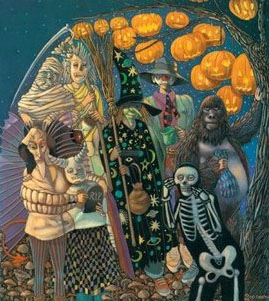 So, what have I been up to lately? Not much to be sincere… I've added some new illusions to our Facebook group (you can join our group via the badge located in the sidebar), but what has really been occupying me lately is my diploma white paper. I'm writing about Web Analytics, and feel pretty much stuck deciding towards which direction to head next. If you have any material on the subject, or know some experts in this field be sure to drop me a line!
Anyway, not to distract you from our newest illusion, let's see what Wyatt Crouse sent in the other day. What you see on your right is the cover of Ray Bradbury's  book The Halloween Tree. If you have trouble seeing the illusion, try squinting your eyes!