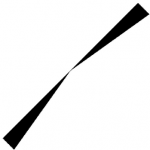 There's a new optical illusion in town, and its name is "Bourdon Illusion". The Bourdon  illusion is the apparent "bentness" of the straight edge of a figure consisting of two elongated triangles arranged apex to apex.
Like you see in the image on your left, the upper side of the left-lower triangle is actually aligned with the upper side of the right-upper triangle, the former appears to tilt counterclockwise while the latter clockwise. What we are seeing here is "seemingly bent" type of illusion. But why?
Further, I've added three rather subtle illusions, each showing bent lines. In Bourdon's illusion, to the left, the straight left hand edge looks bent again. In Humphrey's figure, (central object), the straight, loose line touching the corner of the cube looks bent. In the figure to the right, the straight line interrupted by the corner looks bent.
I don't think we really understand any of these illusions, and since they are not very dramatic, you don't notice them very often. There's probably a different explanation for each. For example, both the left and middle figures show a bent line that is the backbone of two triangles meeting at a point, so you might think "Hello, we're getting somewhere". But then you notice that the lines bend in different directions relative to the triangles inside each illusion.