Speaking of ambiguous…
I've found you a pretty interesting illusion today. I have to warn you, though, if you have coulrophobia (clown phobia), this one might give you may want to avert your eyes!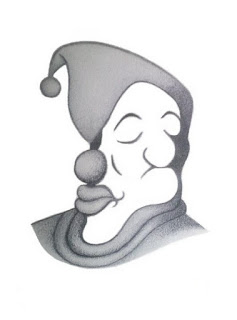 This is one of those very ambiguous illusions that can be seen two different ways. Brilliant, really! Depending on where you focus, you'll see either a sleeping man or clown.
In this sleeping man or clown illusion, we can clearly see the clown facing left. His eyes are closed and his tassled clown hat is flopped over in front of his face. However, if you look at this image a little closer, you might also notice a sleeping man facing right! This time, the tassled hat is flopped back behind him.
Or, maybe you saw the sleeping man first? I know I first saw the clown first, and I'm curious what everyone else saw first. Let me know in the comments below. And, once you see the second face, either the sleeping man or clown, is it harder to see the original face you saw at first?