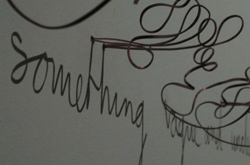 Being so illusion-concentrated, I sometimes tend to forget about real-life manners, thus "successfully" overlooked the fact there were holidays I should have mentioned and congratulated upon. Not to mention how nicely it would be if I temporarily re-designed our homepage and logo to reflect the snowy and Santa-Claus atmosphere…
I apologize for that, mostly because of my manners, but also lack of skills and additional staff… So here it is: Merry Christmas and Happy New Year!!
Now let's return to our topic. To see the genius of Belgian artist Fred Eerdekens, the lighting is very important. That's because Eerdekens' work relies on the shadows cast by sculptures — which are made of bent wires in this example — to unveil the hidden message to the viewer. Can you read all of the Eerdekens messages? What do they say?