Saxophone Player or A Face?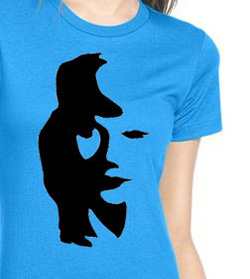 Since this "Jazz Musician" optical illusion was one of the earliest attempts of me trying to blog, where since then it has long been buried deep inside our web archives, it made me very happy when I found out it wasn't forgotten and was used as a print for a very popular T-Shirt brand!
Now don't get me wrong – I'm not the original creator behind this illusion: I even suspect it belongs to the early days of the internet, where its author never came out and claimed it. Still, it brings very nice memories, and I'm particularly fond of the simplicity behind it.