Sandro Del Prete's Optical Illusion Art
We've been posting Sandro Del Prete's optical illusion artworks for as long as I can remember. Unfortunately he was never properly credited for those mega popular illusions he created. When I learned that he was the artist behind all those pieces of art, I've browsed through every each of his illusions from the past and tagged them with "Sandro Del Prete" tag. You may check all his previous works by clicking this tag. Today I bring you one of his awesome impossible paintings, not so many people even heard of. I have included the gallery beneath this image, and added as much new illusions from Sandro I could find. Many of them were covered before, but many new ones were added additionally. Few days ago you asked why is there a need for gallery, when it would be easier for you to see all photos that are part of the set just in one page. I'm aware of this, but as I always been transparent to you guys, the reasons follow – First thing that gallery enables is faster page loading. By having only one image on each page with additional set thumbnails, makes it much smaller in size, thus faster to load. Second, and more important reason (for me as webmaster), is that by opening each new image in a separate page, adds another impression to this website. By this I mean loading new ads each time the new illusion is opened. This shouldn't effect you, but enables me to provide our sponsors with more impressions. Hope this answers your question, and explains role of our newly added galleries. Now little bit of Sandro's biography.
Sandro Del-Prete was born in 1937, and is a Swiss artist who paints figures, situations and processes that cannot exist in the real world. Comparisons can be drawn between Del-Prete and Escher's artwork, although they differ in subject matter, style, mood and technique. Del-Prete greatly admires Escher and believes that they are 'kindred spirits', however the viewer will find very little mathematical precision in Del-Prete's work, something that is always present in Escher's work.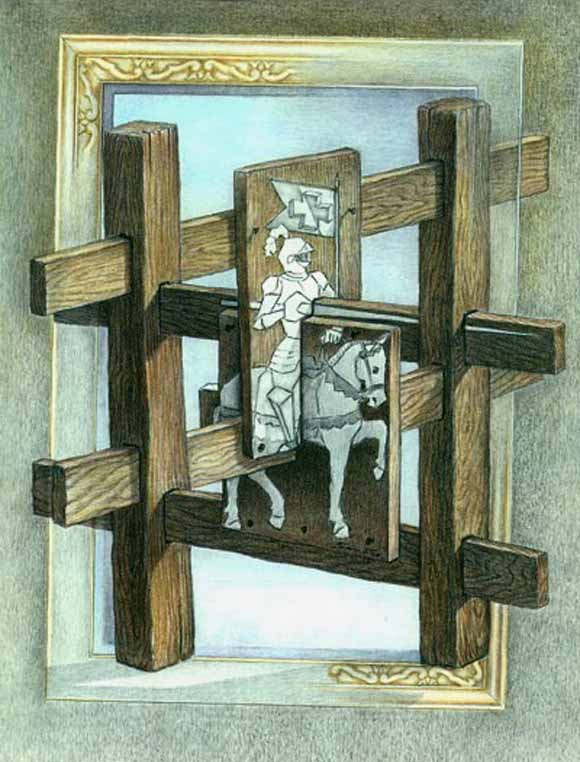 Check out the previous work of Sandro Del Prete