Rorschach Card: What Is It?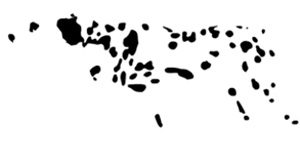 We had some "Rorschach test cards" in the past, where your assignment was to guess what they really represented. Now let's see if you can "crack" this one!
If I only showed you the image on the right (with no accompanying #gif animation) – would you be able to see the most probable solution? Most people don't see it. Yet, after they are presented with the animation below, static card they were puzzled with just minutes ago – immediately becomes recognisable!