Today's image isn't exactly an optical illusion, but more of a perfectly timed photo. This image was sent to me by Kovacs to the Mighty Optical Illusion Facebook page. It shows a single amazing moment in time with a lion attacking a wildebeest in mid-air.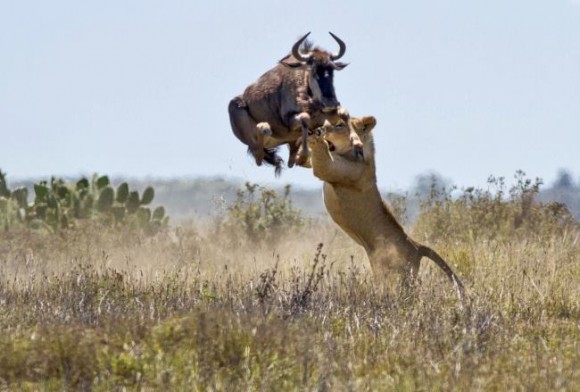 A photo like this lion attacking a wildebeest is a once in a lifetime shot! Everything had to be completely perfect for this shot to work out, from the photographer's skills to the camera to the lighting. Not to mention the timing of this!
If you like this shot of a lion attacking a wildebeest, be sure to rate it below! Even though it's not a true optical illusion, I might start adding a few of these into the daily image rotation, if it gets enough stars.
Love this photo of a lion attacking a wildebeest or perfectly timed photos in general? Head over and check out these perfectly timed helicopter photos!