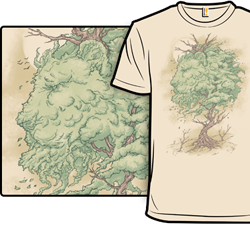 There is this website that specializes in daily T-Shirt deals. Each day one perspective artist is featured, whose design is then put into spotlight. The site I'm talking about is called woot.com, and more often than not I was refereed to it by our loyal illusion-submitting fans.
Recently, artist who goes under the name of bassanimation got his design put into center of attention. Titled "National Pride", the soft-colored motive depicts a mighty tree standing still in the middle of nowhere. But there is so much more to it than meets the eye! Try and see which animal might be hidden somewhere inside this pic.
I understand this illusion is easier to see than not, yet it somehow reminded me of Chow Hon Lam's "Feng-shui Dragon" and this is why I chose to share it.