I was just thinking yesterday that we haven't had any good moving GIF illusions lately. Lo and behold, when I checked the Mighty Optical Illusion Facebook messages this morning (yes, I'm behind) guess what I found? A follower sent us a link to a pretty awesome moving GIF cube illusion!
You have to see this one to believe it…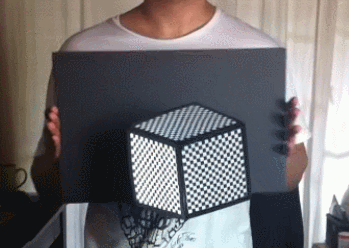 Pretty cool, right? At first, it looks like the 3D checkered cube is just hovering in mid air, which is pretty amazing in and of itself. When we reach the end of the moving GIF, though, we can see that it wasn't an actual cube at all. It was sort of 3D, but the sides and corner of the cube are actually sunk in instead of sticking out. If that makes sense; my mind isn't working well this morning, but I'm sure you know what I mean.
Please don't forget to rate this awesome moving GIF cube illusion with the stars below! It only takes a second…
After you're done being dazzled by this moving GIF cube illusion, head over and check out the making of a hole illusion!