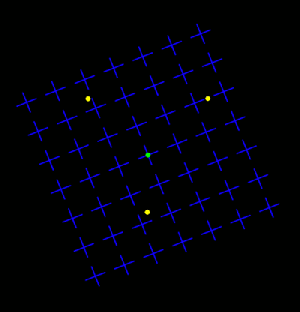 What you'll experience today may ring a bell, as we already featured something similar (yet not as good) in the past. But let me first explain what all the fuss is about:
On your right you can see an animated gif featuring a rotating array of blue crosses and 3 yellow dots. Your single assignment for today is to fixate on the centre and just focus on the flashy green spot. Note that the yellow dots have disappeared after a while – either one by one, or in pairs simultaneously. At one point they even start reappearing randomly!
So where's the illusion, you may ask? Well, the beauty is that all of the three yellow dots are continuously present on the screen! This effect already got its name, and is called "Motion Induced Blindness", or MIB in short.
While steady fixation favours disappearance, blinks or gaze shifts induce reappearance. All in all what we have here is reminiscent of the Troxler effect, but much stronger and more resistant to residual eye movements.
What happens if you focus your sight on one of the yellow dots, instead? Think this would also work with different colors? How about different elements and movement? Anyone willing to make a different kind of animation and test it out? Be sure to share your example and results with rest of us! BTW, click on the animation above to see it in higher-res! There you may find few more versions of this optical illusion as well..