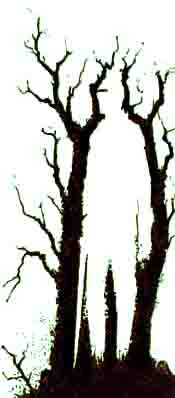 I don't feel much inspired for writing today, better yet – last few days I was completely hit by writers block. Above all this, my keypad stopped responding when I enter "space" tab. I think there is some kind of food element stuck beneath it, but who knows. So after I wrote this article, I needed to copy-paste each "space" line between words and construction elements. Think about it for a second! How much of unnecessary work am I talking here.
But I'm not gonna allow such a trivial problem stand between me and this blog. No way! I already purchased Dell's wireless keyboard, and hopefully it will arrive tomorrow. Check the photo I linked, and please give me some feedback if you've had the opportunity to use it by any chance. I just hope I didn't make the wrong decision, based only on viewing a single photo of it.
Not to bore you with my personal "problems", I chose this simple picture (you see on your left) for today. I think the illusion is very simple to see, but the idea behind is very nice if you ask me. Hopefully you skipped reading the title, the descriptive tags beneath, and will solve the optical illusions yourselves. What are the tree branches hiding?
You can find some related optical illusions here, here and here. Enjoy!