Happy Hump Day! It's Wednesday, which means that the week is officially half over, and the weekend is getting that much closer.  When the weekend comes, people can leave the big city and get back to nature, which may include doing some flower picking. Flowers are beautiful, and thy make the world a better place.
Take a look at today's optical illusion and what do you see? Now, at first glance, you may see flowers and a butterfly, but is that all? For those of you that have an active imagination, you may see something first before you even notice that flowers and butterfly.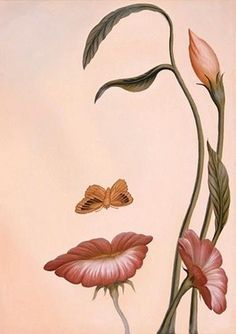 If you all something in the flowers, be sure you leave a comment below and tell us all about it!
There is nothing more fun then finding hidden animals, and this Mt. Rainier illusion has eagles in it, but, do you all see something else other than just an eagle or two? There are many hidden animals in this illusion, you just have to look closely and you are sure to find at least a few. Be sure you drop us a comment below and include all the animals you find on the mountain! Good luck and happy hunting!