The weekend's almost over, but that's no reason to lose your head! Or, maybe it is…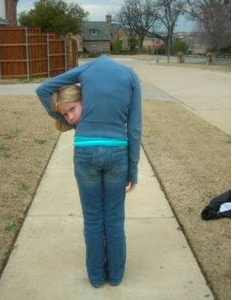 This headless girl illusion is an example of a perfectly posed photograph. It looks like this girl is not only headless, but also carrying her head under her arm. If I had to guess, I'd say that there are actually two people in this headless girl illusion. One is standing with her head down and her back to the camera, and the other one is standing in front of the first girl with her arm under the first girl's head. The first girl's legs are together, so the second girl's legs are hidden behind them.
You have to admit that the resulting headless girl illusion is pretty great! I love the expression on the girl's face too. She really doesn't look all that happy about being headless. I might just round up the kids and try to create my own headless girl illusion!
If you loved this headless girl illusion, be sure to check out our other headless illusions! You'll find a headless gymnast, a headless baseball player, and a headless boy!