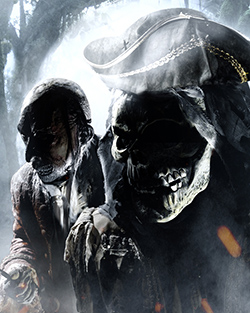 I think you were right regarding my last post – on a second look, those photos really do seem manipulated. Sorry for overseeing this fact before blogging about it! Still, you have to admit they would make one awesome post if they were for real, agree? But let's forget this little mistake I made, and move on to see what I have prepared for you today:
Sven Sauer is a German designer responsible for developing illusion-based posters for the horror event titled "Halloween Castle Frankenstein". In it, 30 000 people try to find their way, and "survive" in a real dark castle.
Before Sven explained this to me, I never knew that Mary Shelly's Novel was named after this site in Germany! How awesome is that? Anyway, for the last 2 years Sven has been responsible for developing posters, trying to catch "fear" in the best visual way he can.
I think he is very talented from the examples below. What's your opinion? We've already seen many #Skull illusions, trying to show both worlds at once – the real monsters… and your own fear! If you're having trouble seeing the second part of the deal, try shrinking the images, or see them inside your "Optical Illusion of The Day" widgets!