I know, I know! There are lots of skull optical illusion pictures on the site. But there's just something about them, ya know? Skulls are creepy, yet completely fascinating, especially when they're hidden in an image with objects that are generally considered to be beautiful and delicate. Such a contrast is always fascinating.
Today's illusion is just such a skull optical illusion.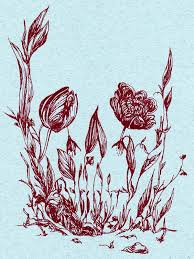 You can probably easily see the skull in this image, but can you tell that it's not actually a picture of a skull? It's really a picture of flowers and other plants. The skull optical illusion is hidden in the negative space between the plants. This one is nicely done, and it's one of my favorite skull illusions out there!
If you liked this skull and flower illusion, be sure to rate it below!