Floating Happy Birthday Cube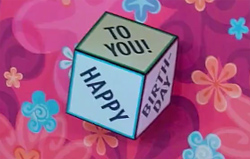 Don't ask me why, but somehow these kind of videos never get boring (at least speaking for myself)! The magical floating cube below was constructed by graphic designer Peter Dahmen. If you wish, you can even download a free tutorial, one that will guide through process of creating this one yourselves. It's just like the time we gave you a printable cut-out, where you could build that funny looking dragon, whose eyes kept following you wherever you go!
I'm sure you'll quickly realize the magic behind this video, yet with all our experience, and after seeing so many illusions here, my brain simply doesn't allow me to see the cube in its true nature. How about you? Can you force yourself to see it properly?