The snow from yesterday is still on the ground, but I don't know for how much longer. Between the weather warming up already and the kids rolling up snowmen, it's quickly disappearing. So, in honor of our first real snowfall (finally!), I have a fun little hidden object image for you today. I figured I'd better get this one up quickly, before all of the snow disappears!
Can you find the panda in the image below?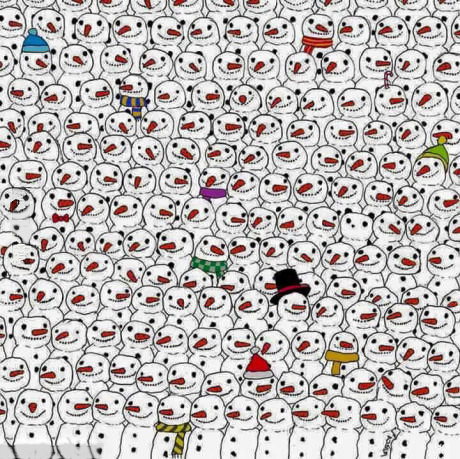 Good luck! It took me several seconds to find the little guy. He just blends right in with all of the snowmen. And, when I was trying to find the panda, my eyes were constantly being drawn to the snowmen with the noticeable differences. Like the snowman with the top hat and the ones with the scarves. Or, how about the one with the candy cane on top of his head?
I eventually did find the panda, but I'm not telling! You have to figure that one out all by yourself. I wonder, though, if the panda was hidden so well, if there's anything else hidden in this image.