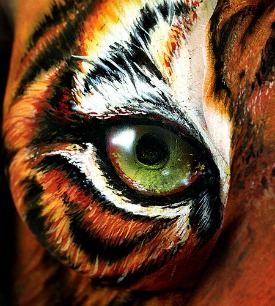 Vurdlak has already featured Craig Tracy in the past, along with some of his most incredible body-paint works. In fact, he even named Tracy's snow leopard image as one of the best optical illusions in 2009. Of course, it's precisely that amazing level of skill that made me want to display few more images by this amazing artist! So here we go:
"How good is he?", you may ask. Well, let me put it this way: the image just on the right, if Tracy weren't such a fantastic body painter, would most certainly be labeled NSFW (*Not Safe For Work). Fortunately, instead you are seeing a gorgeous tiger eye staring at you intensely. If you really want to see what kind of effort goes into creating these exquisite masterpieces, be sure to visit the authors website where you can see an array of photos and videos depicting the creation of these works of art.
In fact, if you are truly inspired by Mr. Tracy's work, there is even an information on how you can volunteer to become one of his models, thus becoming a part of the creation yourself. Who knows, maybe one of you will be featured on Mighty Optical Illusions one day…
But don't think for a moment that Tracy's artwork is solely limited to realistic images of big cats being painted on human canvases. No, his talent ranges from Liu-Bolin-styled camouflage pieces…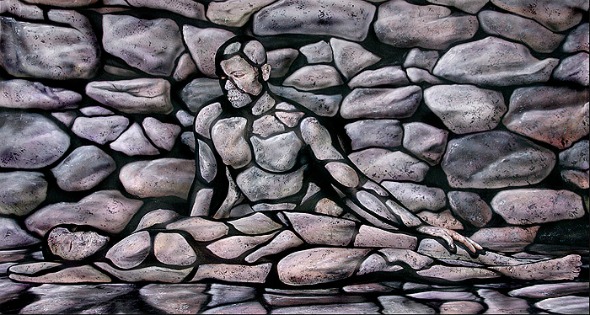 to stunning floral paintings (that just happen to be painted on a naked person)…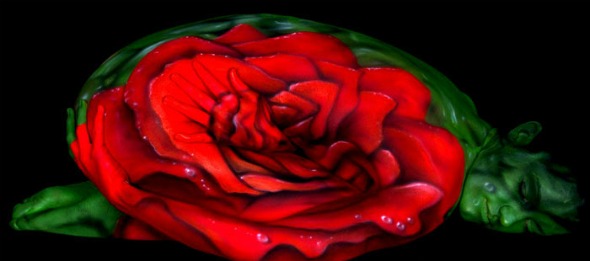 to detailed depictions of non-feline creatures.