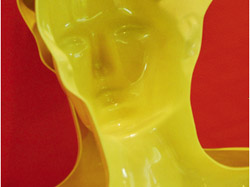 Got this incredible photo from one of our loyal visitors. Then I made a cropped version of it to strengthen the effect. Just look at the small thumbnail on your right. How easy it is to decide whether the doll-like hanger is convex or concave (embossed or embedded)? There should be no mistake if we decide it's concave convex, right?
Unfortunately, our brain was fooled once again! This known effect has something to do with our brain processing the information of face-like objects, automatically rendering them to convex 3d models. We just can't fight it.
Check the complete photo below! It's almost impossible to notice where the concave part ends and (falsely presumed) convex part of the figure starts. Probably we saw so many faces during our life, it's impossible to ignore the learned logic which constructs them 3-dimensionally in our head. Do you think kids are immune to this? How about animals?