Cheshire Cat Optical Illusion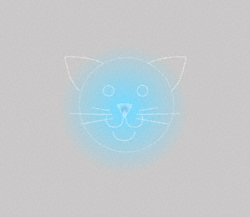 Even though visually simple, I promise you that the optical illusion effect this picture holds – is more than great!  Before we start, I'd like to point that the Cheshire Cat is a fictional cat popularized by Lewis Carroll's depiction of it in Alice's Adventures in Wonderland. The Cheshire Cat has had a notable impact on popular culture, where its grin is reminiscent of the vagaries of a trickster.
Now here's what I'd like you to do: hold your head in a perfectly still position, and then concentrate on the cat's nose. Try looking at it for as long as you can, and after a minute or so, you'll notice that the blue vapor has completely disappeared. Not only that, you'll continue seeing cat's outline, but after some additional time – complete cat should disappear! How strange is that? If you remember, back in the old days we posted few simmilar illusions to our "Color Adapting" category. You might want to check them first! Now I'm off to write another illusory post, so you have something to chew-on over the weekend.