Today illusion is another spot the object one, where you have to find Spongebob. I like it, but even better was hidden cell phone, remember it?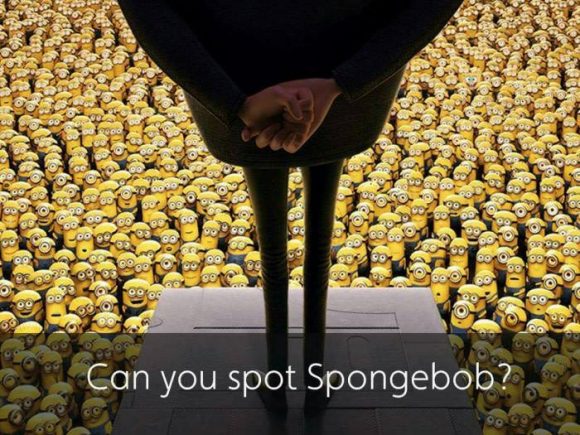 Can you spot a yellow spongy square that is so generally known as "SpongeBob SquarePants" amongst the enormous crowd of cute little furry minions? Take a good long look in this picture where you can see Gru with his arms crossed looking down at his relatives the cute little minions where in the huge crowd of yellow funny looking minions is the famous SpongeBob SquarePants. All three of these characters are very well known, but SpongeBob comes out on top. Kids, teens and adults love watching SpongeBob SquarePants on Nick. He is one of the most, or should I say, the most famous character in Nickelodeon. What comes to mind when you hear the all famous Nickelodeon character SpongeBob SquarePants? Is squared shaped yellow spongy body, he'sannoying yet charming laugh, his two buck teeth, or is it his skinny legs with his blue and red stripedwhite socks? Or do you think of this….
Are you ready kids?
Aye-aye captain.
I can't hear you…
Aye-aye captain!

Oh! Who lives in a Pineapple under the sea?
SpongeBob SquarePants!
Absorbent and yellow and porous is he!
SpongeBob SquarePants!

If nautical nonsense be something you wish…
SpongeBob SquarePants!
Then drop on the deck and flop like a fish!
SpongeBob SquarePants!
Ready?

SpongeBob SquarePants! SpongeBob SquarePants!
SpongeBob… SquarePants! Hahaha! Ahahahah ah
His all famous theme song that everyone seems to want to sing along to, "It just does." He is a friendly, kind, lovable and at times annoying yellow squared sponge that lives in a Pineapple house with his pet Gary the snailunder the sea alongside his aquatic friends. He works as a fry cook in a fast food restaurant called, The Krusty Krab which he is obsessed with. His boss is Eugene Krabs, a greedy crab alongside his grumpy moody next door neighbor Squidward Tentacles. SpongeBob's favorite things to do when he is not working are jelly fishing, practice Karate with Sandy Cheeks, a squirrel that is also a close friend of his and his fandom for super heroes Mermaid Man and Barnacle Boy, and loves blowing bubbles. He is often in the company of his best friend Patrick who lives a few doors down from him. In many of his episodes you can see him going to boarding school where he has repeatedly failed to pass his road test at Mrs. Puff's Boating School. SpongeBob SquarePants is one of those characters that will always be remembered.