"Black Or White" Portrait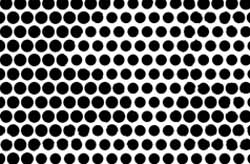 Today's optical illusion was created and submitted by Terence Rosoman, who pointed out that things aren't always as clear as black and white. At first, we only see bunch of different-sized black dots positioned on a white surface. But Terence gave us a big hint!  In order to properly see the hidden picture, we should squint our eyes. We can also look at a picture from greater distance. This should help us seeing the hidden celebrity. Can you guess who it is? If you manage to see a figure, but don't recognize the person, I advise you to read this post for a hint.
Even though I'm not the greats fan of this persona, I deeply appreciate his artistic contributions. If you like this kind of hidden images, you'll gonna love Type Addicted book cover. Apart from Marylin Monroe and Santa Claus (?), there are many more similar illusions in our archives.