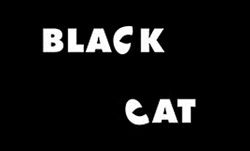 Leonardo da Vinci was perhaps the most universal genius of all time. He was an Italian draftsman, painter, sculptor, architect and engineer whose genius epitomized the Renaissance humanist ideal. One of his favorite maxims (often quoted by Steve Jobs) was:
Simplicity is the ultimate sophistication
Todays picture isn't something you should relate to Leonardo, yet the illusion is so simple, it makes you wonder how the unknown artist achieved such an extraordinary effect with nothing but mere letters. Look what happens if we rotate his "Black Cat" signature 90 degrees? With just two inverted "C's" you get an impression black cat is staring at you! Spooky, isn't it?