Skull optical illusions have to be one of the most common illusions. I know we've posted several of them on the site already, but they're always popular. There's something drawing and alluring about the dark and macabre, I think, whether we like to admit it or not. And, since it's getting closer to Halloween, I think a nice little skull optical illusion is in order, don't you?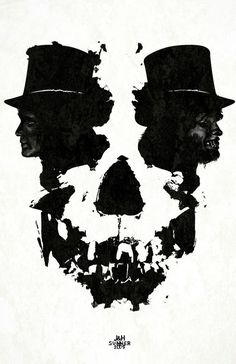 Well, what did you see first in this skull optical illusion? You most likely saw the skull first, because I mentioned it before showing you the picture. But, did you notice something else?
If I would have referred to this as "two guys in to hats" illusion, would you have seen them first, I wonder? The two gentleman in top hats give this illusion a slightly darker feel, I think. To me, it give it a bit of a Jack the Ripper feel to it… But, maybe I'm just weird like that. What do you think?
Don't forget to rate this skull optical illusion with the stars below! And, if you want some more macabre illusion fun, be sure to check out the rest of the skull illusions on the site!