I'm certain most of you know about The Beatles, and have probably at some point in your life seen the album cover where they walk across the Abbey Road. The original image of the Beatles on the crossing has become one of the most famous and imitated in recording history. One such spoof was recently done featuring the Peanuts' gang Charlie Brown, Lucy, Snoopy, Woodstock, & Marcie. Check it out below! The most interesting part is how the anamorphic chalk drawing appears when seen from a side.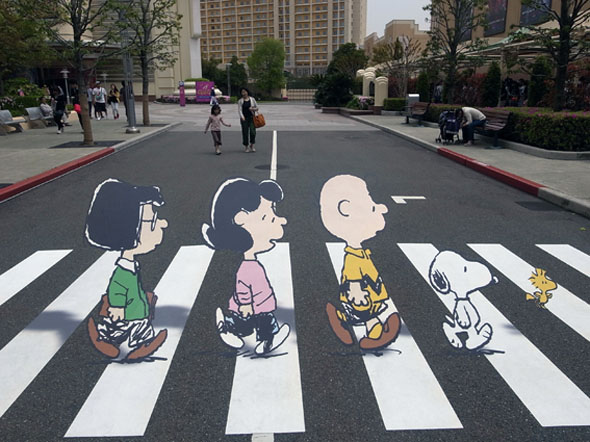 For their front cover design (scroll further down), a photograph of the group traversing a zebra crossing, the photographer Iain Macmillan was given only ten minutes to take the photo whilst he stood on a step-ladder and a policeman held up the traffic. In the scene, the group walk across the street in single file from left to right, with Lennon leading, followed by Starr, McCartney, and Harrison. McCartney is barefoot.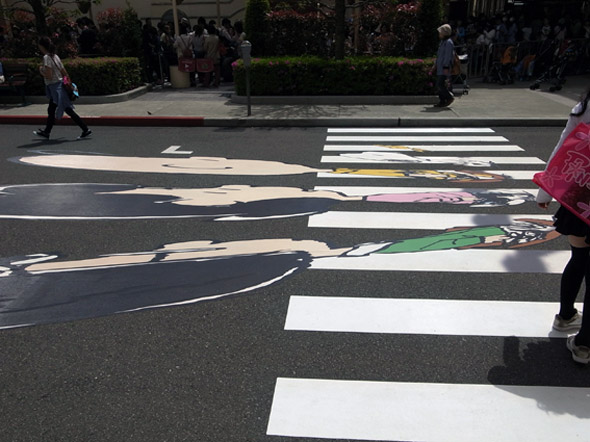 It might be interesting to mention how to the left of the picture (parked next to the zebra crossing) is a white Volkswagen Beetle motor-car which belonged to one of the people living in the block of flats across from the recording studio. After the album was released, the number plate (LMW 281F) was stolen repeatedly from the car. The crossing is also a very popular destination for Beatles fans and there is even a webcam featuring it!