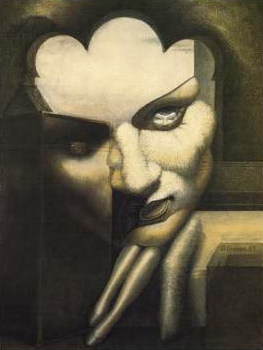 I've just noticed that last few days, most of the illusions depict beautiful ladies or cute girls. Must be the heat. I can't function normally when there's such a warm weather outside. Anyhow, I had this piece of art in my collection for ages, but I just couldn't find out who the original author is. Anyone recognizes the masterpiece attached to this post?
Those that came here via our Optical Illusion of The Day widget, probably saw the face of a vampire first. But if you look more closely, you'll quickly realize what we have here is a buttoned-up mistress sitting beside the window ledge.
If you like them #fantasy illusions, I suggest you head over to the Dragon Lady illusion we posted few months ago. Enjoy your stay on Mighty Optical Illusions, and don't forget there's a handy little button at the end of each post which brings you to the next "Random Illusion"!