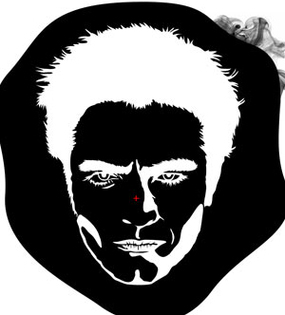 I've been working on this website for the last few days, it's just that the work being done was held on the back-end side. This is why there hasn't been any updates for the last two days. My deepest apologies.
Anyhow, recently I've noticed hysteria among chicks over this vampire saga called Twilight. My girlfriend read them books couple of times, and even forced me to watch actual movie with her. I would be lying if I didn't say I was bored at best. Don't know, I simply see it as ordinary vampire move redefined to suit women, but then again – I could be wrong.
Still, if there are any fans of the movie out there, I've received these two optical illusions of main actor – Robert Pattinson, so hope you enjoy them!
First one on the right is simple afterimage (if you don't know how afterimages work, read this first). It works best if you switch your view to blank white screen, after burning the negative image in your retina. Perpetual blinking helps additionally. This one worked great for me! Few more afterimage illusions can be found here.
The second illusion of Robert Pettinson (on your left), is a simple photograph caught in the right moment. When I first saw it, I got impression this dude is wearing some kind of tennis hat and has really alien-ish head anatomy. When you take a closer look, you'll quickly realize there is actually another person standing behind him.
There, I believe these two illusions weren't the best ones available, but still we can't have Greatest Illusions each day. Can we? Btw. check this promotion of Fight Club, done for the 10th anniversary. It will show you the power of Facebook Connect!