It's Sunday, and I don't know about you, but I'm certainly enjoying my weekend to the fullest. I've had a great time the past couple days enjoying the sun and hanging out with some friends. Today's new optical illusion was actually inspired by what I'm going to go out and do today. Later, I'm going to call up some friends and see if they want to play some basketball. I have some new basketball shoes that I've been aching to try out and I'm always excited to shoot some hoops. How about you; do you like basketball? If so, who is your favorite team and how often do you play?
Today's optical illusion, as I said, and as you could probably guess from the title, has to do with basketball. In this optical illusion, you're going to see two guys playing basketball and one person seems to be slam dunking the sun in the picture. If that's the case, I think this guy has talents that may even exceed Michael Jordan's!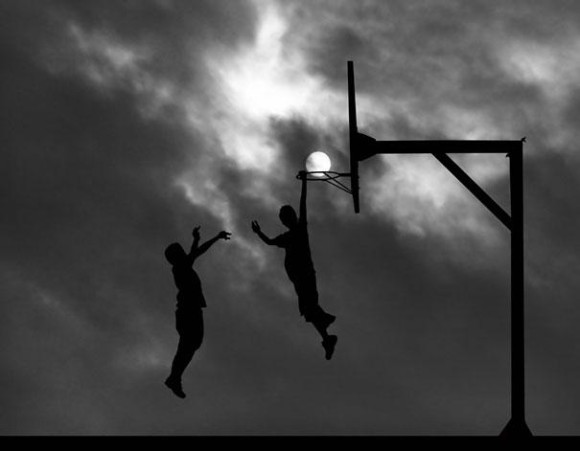 This is another one of those simple, but effective illusions that just show you that anyone is capable of creating their own optical illusions. You just have to have a creative mind to do it.
Want another optical illusion for today? Help these girls find their boyfriends.