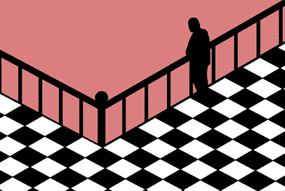 People are sheep. Why am I telling you this? Over the years, in periods when economy gets worse, I noticed a rising trend of forex-based-scams. These are advanced-pyramidal schemes, where so called "businessmen" convince you, you will get sky-rocket return if you invest your money in oil/gold/food/currencies.. marketplace.
But the real truth is that your money goes directly to some Panama-based crooks, and investors like you get portions of payments from other members, until new members stop pouring in.
You see how unsustainable this is? I've seen so many people in my surrounding that fall for this, and think someone is dealing gold, currency and money options for them to get rich. After a while these companies stop paying you your monthly return, always using excuses that involve "there is a different law in different regions", "our system got hacked", etc… But what is even worse, then these offshore companies close their office, leave you in debt and *wait to hear this: open a new company with similar name, and start all over again. You would be surprised how many people do it over and over again, ending up in big debts.
Why am I telling you all this? I became aware how big our audience here at Mighty Optical Illusions really is, and apart from sharing fun stuff, my responsibility should also be to transfer knowledge and education as much as I can. If not for anything else, then at least to protect you from future errors in your life. Whenever someone approaches you with these affiliate-based "investments", alarm should be triggered in your head in no-time! What angers me, despite my knowledge and research, when I try to explain this to anyone excited about forexfinanza, forex-this, and forex-that they simply won't listen, and end up loosing great sums of money! Don't worry – I never fell for any of these… For today's illusion, I think pictures speak for themselves. Which way is the man facing? Can you tell?