Ooh la la! I have a fun illusion for you guys today! If this were the 19th century, it could even be considered a little naughty! Lucky for us, though, we're in the 21st century, and .it's just a fun shadow illusion…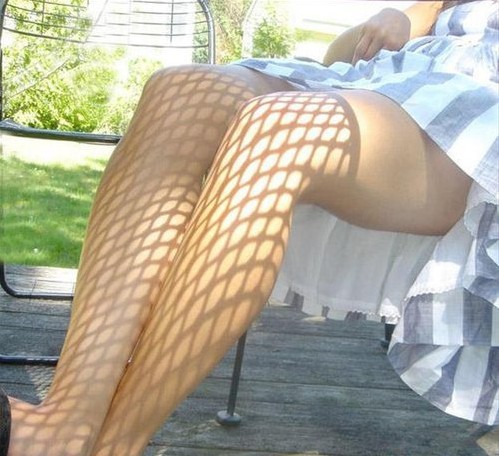 When I first saw this image as a thumbnail, I didn't quite catch on that it was a shadow illusion, or any other illusion at all, for that matter. In fact, I almost skipped right over it. I just thought it was a nice set of gams in some fishnet stockings. With the image full size, though, I finally saw that the fishnet stockings weren't stockings at all, but a shadow on the legs.
We can see what looks like a patio chair in the background of this image, so I would image that the fishnet stocking shadow illusion is from the sun shining through the grated top of an outdoor patio table. All that was really required was a lady with pretty legs and some proper positioning; Mother Nature really did the rest. I actually have a table similar to this, and it really makes me want to try to recreate this shot! Now I just need to find a lady with pretty legs….
What did you think about this shadow illusion? If you liked it, you might also like this shadow with eyes illusion or this shadow square illusion!