Today, I have another optical illusion that involves an animal. A lot of you out there typically love the animal optical illusions that I post up. Therefore, I really hope you enjoy the one that I'm going to upload today. I have to admit, it's not one of those typical cutesy animal optical illusions I put up, but it's still an animal optical illusion and it's definitely out of the ordinary. Scroll down below and you'll see exactly what I am talking about.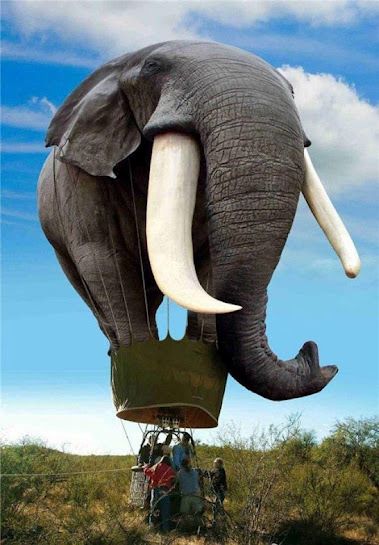 Now, is that a cool optical illusion or what? Do you think this thing is a work of Photoshop or do you think this is an actual hot air balloon that's shaped and painted to look like an elephant? Let me know by leaving your comment below in the comments section. I'm always interested in hearing what you have to say.
Have you ever been on a hot air balloon? I never have, but it's something that I've always wanted to do. It's one of those "extreme" things you can do for a rush, but it's also one of the safest "extreme" things you can do. It's certainly a lot safer than jumping out of an airplane or something.
Want to see another cool optical illusion? Check out the haunted forest optical illusion.