Fred Eerdekens' Shadow Art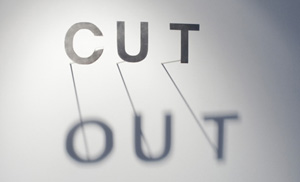 Fred Eerdekens is a Belgian artist we've featured multiple times in the past. What we have learned by now, is that he is most famous for his breathtaking installations that use light and very purposely placed objects to create typographic spaces. Just like the ones presented below. In my opinion, these are just cool beyond words. Can you imagine walking around a gallery space looking soley at the beautiful objects, when all of a sudden you reach the position where the lights and objects collide to form a shadow of words?
After you've checked both #Fred Eerdekens and #Shadow tags, you'll have a pretty good insight to proceed with what I have prepared for you today.  Wires, metal, junk, trees… it's just a portion of material Fred uses to come up with his creations. Here are some of the more prominent works done by this artists. And if all of this still isn't enough for you, you are welcome to browse through the attached gallery at the bottom of this post. Which one is your favorite? Can you make out all of the words and letters produced by shadows? How about those is dutch?
More Shadow Art Installations by Fred Eerdekens: