I've been spoiling you all out there lately with a ton of new optical illusions that apparently a lot of you like. I just went through and approved the comments on the site and a lot of you actually gave me some compliments, which I highly appreciate. Heck, I appreciate comments in general, so don't ever be shy when it comes to leaving one on the site. I promise you that I will certainly find it.
Today, I'm going to continue spoiling you, because I have another amazing optical illusion that I think you're all really going to enjoy. Chances are, you looked at the title and you're probably thinking this is going to be a really weird optical illusion — and it is! This woman seems to have a foot for a hand in the picture below. I want you to tell me how this effect was done in the comments section. Check it out and see what you think.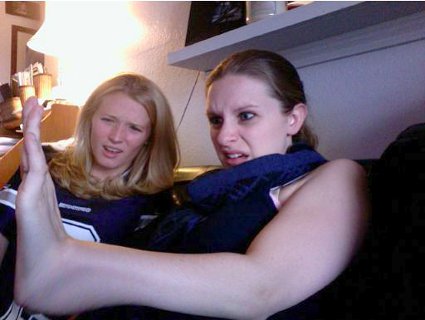 Now that's a really weird effect, huh? The look on the girl's faces just say it all. Can you tell me how they were able to pull this effect off? Leave your guess in the comments section.
Do you want another optical illusion for your viewing pleasure? If so, check out this Cut Chair Optical Illusion.