A big hello out there to everyone in Internet land today. First off, I'd like to send out a big 'thank you' to everyone that's following the MoIllusions Facebook page, because we're about to hit 100,000 fans which is a huge milestone! If you're not a follower of the Facebook page it would be highly appreciated if you click here to follow MoIllusions on Facebook.
Today I have new optical illusion for you that's probably going to make your head explode. This is a brain teaser optical illusion, so I highly suggest you have a decent bit of time on your hands before you even look at it. If you're ready to check it out, you can scroll down right now.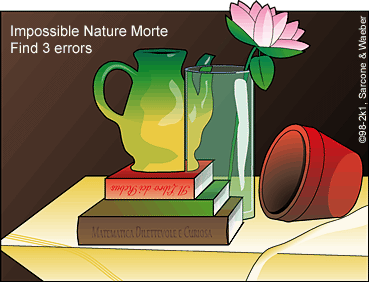 Were you able to find the 3 errors in the image I posted above? If so, let me know what you found in the comments section below this post. I'd be interested in hearing whether or not you were able to correctly solve this optical illusion.
Do you still want to check out some more optical illusions? Well, I have one that's going to blow your mind, as well as make you laugh. Click here to check out the "Oldboy Optical Illusion."