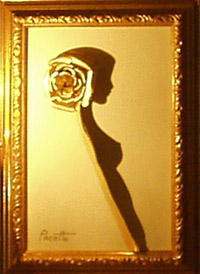 Few weeks ago Stephen Wulfson sent me an email referring to an interesting artist, whose name is Paul Pacotto. This email stayed on my disk for long time before I remembered I have it, and decided to share it with our faithful audience. Stephen attached some of the photos he took in the Negresco Hotel shop in Nice, France. As I understood, Paul Pacotto's art mainly consists of simple objects whose shadow resembles a lady's shadow.
If you look at your right, you can see one such example, where a rose on a stem turns into the shadow of a young beautiful woman. You can get a better view, and some more examples in the second photo below.
BTW, just to inform you, we've had some serious Internet connection issues yesterday, and this is the sole reason you weren't given a fresh optical illusion yesterday. I feel somehow embarrassed as this happened only few days after I gave my pledge. Don't worry, as I've already promised, I'm giving my best to lower the illusion-less days down to zero… Enjoy today's post!