VIDEO Sugihara's Impossible Rooftop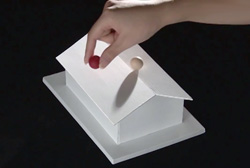 If you're an old time fan of Mighty Optical Illusions blog you're already familiar with all kinds of #impossible objects. We've featured hundreds of them over the course of seven years, however, after seeing creations of mathematician and professor Kokichi Sugihara, I will think before I use the word impossible going forward.
Sugihara's award-winning creations often combine 2D-looking 3D structures with dynamic elements (rolling balls in this case) to toy with our perception of scale, dimension, and linear perspective. One I'm about to show you was presented few days ago at the European Conference on Visual Perception in Sardinia, Italy. For those of you who find this video familiar, you're right – We already featured Sugihara's creations in one of our earlier articles.
Sometimes the program turned these objects into real objects, and that's how I discovered that some impossible objects are not really impossible. They can actually be built as solids in three-dimensional space." – Sugihara