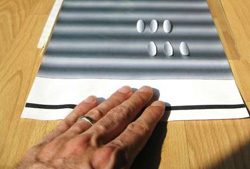 Optical illusions fool us by violating our assumptions about what we see. The end results of how our brains process visual cues can be fascinating at times.
What I have here for you today, is a DIY tutorial for an illusion we already featured once in the past. It's a rather simple, but extremely effective illusion, and the best thing about it – you can make one yourself! Once again Instructables prepared awesome step-by-step tutorial for you to download.
As you will see, our brain has a significant role of processing objects based on their surroundings. This is exactly what lights the fire for this illusion. When you place small paper ovals in front of a moving paper background, they appear to change shape, and undulate right in front of your eyes. Just look how they wiggle! Check this short video that shows the full effect. Btw, you can see more of greeenpro2009's optical illusions if you check out his YouTube channel.