VIDEO: Missing Cubes Optical Illusion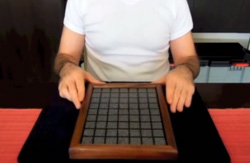 If you haven't had the chance to see this "Missing/Extra Cube" video that went viral recently, here's your chance to see it now! Norberto Jansenson has re-thinked famous missing-piece illusion (original version included triangle), and then presented it in much more appealing and effective manner.
The idea behind this toy is somewhat identical to "Preposterous Puzzle" and "Confuzzle". Norberto starts with a wooden frame filled entirely by 63 cubical pieces, where he then starts rearranging them. By the end of the video he ends up with few extra pieces on his side. Let's see if we can solve this illusive puzzle one more time!